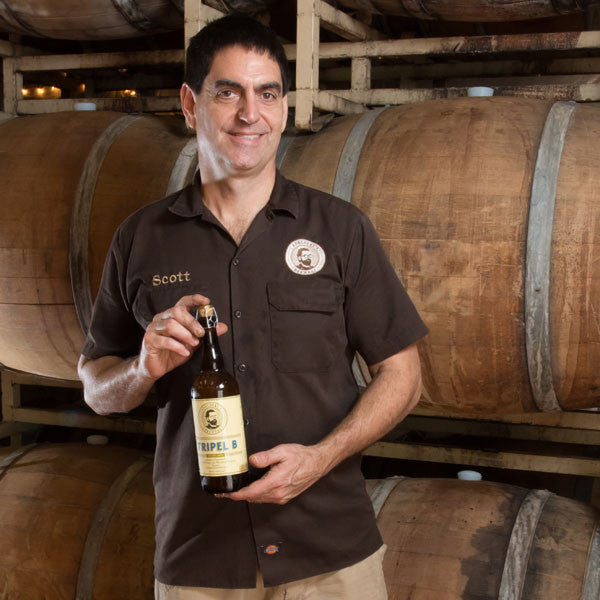 Brewery Spotlight: Adelbert's In Austin, Texas
The next time you're steeping grains on the stove and dreaming of opening your own brewery, think of Scott Hovey. He too was once a passionate home brewer, doing it all for the love of the ale. But in 2011, Hovey traded his day job as an engineer for the life of a brewmaster, founding Adelbert's Brewery in Austin, Texas.
That decision helped shape the Texas craft beer scene.
Over the last five years, Adelbert's has rolled out a string of distinctive, award-winning ales. According to Adelbert's General Manager Sarah Haney, it all starts on a very basic level: what sounds good.
"We don't have a standard process," says Haney, regarding how they decide on what beer to brew next. "We aren't sitting around saying, 'We need an imperial IPA by March or else.' Instead, we'll chat and decide what sounds good to us. The Hibiscus Saison was inspired by a beer I had out in California and couldn't stop talking about, so Scott and I started pilot batching recipes."
The process isn't always perfect, and that's actually part of the process.
Their Lemon Rye, for example, was the result of a miscalculation during a brew that ended in extra rye wort that had "good bones." They added lemon peel and dry hopped it with Mosaic for kicks. It's now one of their most popular taproom beers.
Each of the brewery's main offerings is named in honor of the brewmaster's older brother George Adelbert "Del" Hovey.
"Del lived an adventurous life, always coming home with wild and crazy stories," says Haney. "Scott thought naming the brewery after him would be a great way to pay homage to his brother. Then we named our year-round beers after his crazy stories."
Dancin' Monks? Named after the Colombian Monks who used to dance the night away at Del's annual retreat at his home near Navaisha Lake in Kenya. Sundowner commemorates Del's habit of rounding up friends for long hikes that often ended in picnics at sunset.
In an effort to keep the stories authentic, special and limited releases are named more traditionally, rather than stretching one of Del's tales too far from the truth.
As the brewery's offerings grow, the Texas craft beer scene has done the same.
"Texas as a whole is behind other states due to restrictive beer laws. Those laws have changed a lot in the last five years, opening up a lot more opportunity for craft brewers to be successful," says Haney. "Austin has grown exponentially. Just 10 years ago, there were really only a couple players in the craft beer game. Now it has grown to approximately 25 breweries/brewpubs and 10 more are in the works."
Inspired by Belgian-style ales and fueled by a deep love of beer, the folks at Adelbert's aren't pretentious about the state of beer in general.
"Every beer has its place. In college, I drank Miller Lite and Dos XX," says Haney. "As I got older, my preferences changed. There's a beer for everyone and every occasion. Drinking a 9.3% Tripel B to float the river in San Marcos isn't a wise choice. I don't hate on someone if they want to drink a Lone Star, but I've found if I'm going to spend my money, I want it to go towards a more flavorful product and a business owner dedicated to the craft part of this industry."
And who should be drinking Adelbert's? At any given time, they're cranking 8+ styles.
"We have something for everyone," says Haney. "From the person just dipping their toe into craft for the first time to someone who has traveled around the world drinking beer."
If you'd like to discover more about Adelbert's, you can either grab a few bottles, or visit the brewery and learn about their multi-temperature decoction mash, super stacks that are about 6-ft tall and 4-ft wide, and where the grain comes from (Belgium, the UK and the Czech Republic).
Tour Information
Adelbert's At Retail
This is the first in our Brewery Spotlight series. Over the next year, we'll be featuring microbreweries from across the nation. To suggest a brewery near you, send an email to info@threadbrew.com.