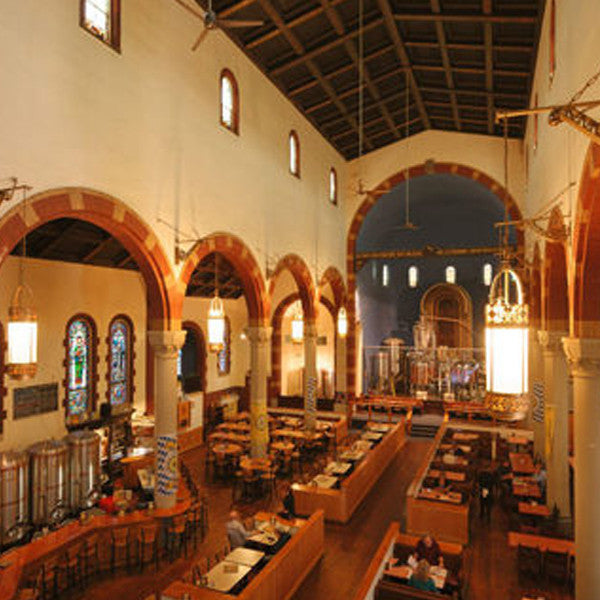 Beer Bucket List: U.S. Breweries You Need To Visit
This article pairs well with our Hopped Up collection.
Craft beer has really been making its mark in the beer market in the United States. People love the idea of trying new and interesting beers and so the industry continues to keep growing to satisfy this desire. All over the country, you'll find tons of breweries, some extremely popular and some that are small and not as well-known. Many of the breweries love to have visitors, and at some you'll even get a chance to talk to the brewers themselves. There are way too many breweries worth a visit to name them all, but these spots around the U.S. should definitely be on your Beer Bucket List.
Dogfish Head Brewery
Even if you don't know a lot about beer, you've probably at least heard of Dogfish Head and their slogan "Off-centered ales for off-centered people." Since it was founded in 1995, the company has grown immensely, so much so that in order to accommodate the growth the brewery had to be moved to Milton, from its original home of Rehoboth Beach. Over in Milton they also added a distillery, so there's something for everyone's taste. When visiting there's plenty to do, including tours, tastings, and even some games like cornhole and bocce ball. Dogfish Head Brewery also has something that makes them truly unique, besides their Steampunk Treehouse, which in my opinion makes for a pretty cool feature on their grounds. The brewery encourages everyone who visits to bring something to add to their Off-Centered Wall, whether it be a work of art, a phrase, a craft -- anything -- to showcase the personalities of their fans and the spirit of the company.
Jester King Brewery
In the Hill Country just a half hour outside of downtown Austin, you'll find Jester King Brewery, a farmhouse brewery dedicated to making awesome wild ales. Visit the brewery and you can get a free tour and also have the option to purchase some of their many beers to take home with you. One of the coolest things about Jester King is their beer labels, which are each a unique work of art created by Josh Cockrell. Aside from the great beer, these labels really make Jester King Brewery stand out.
Stone Brewing Co.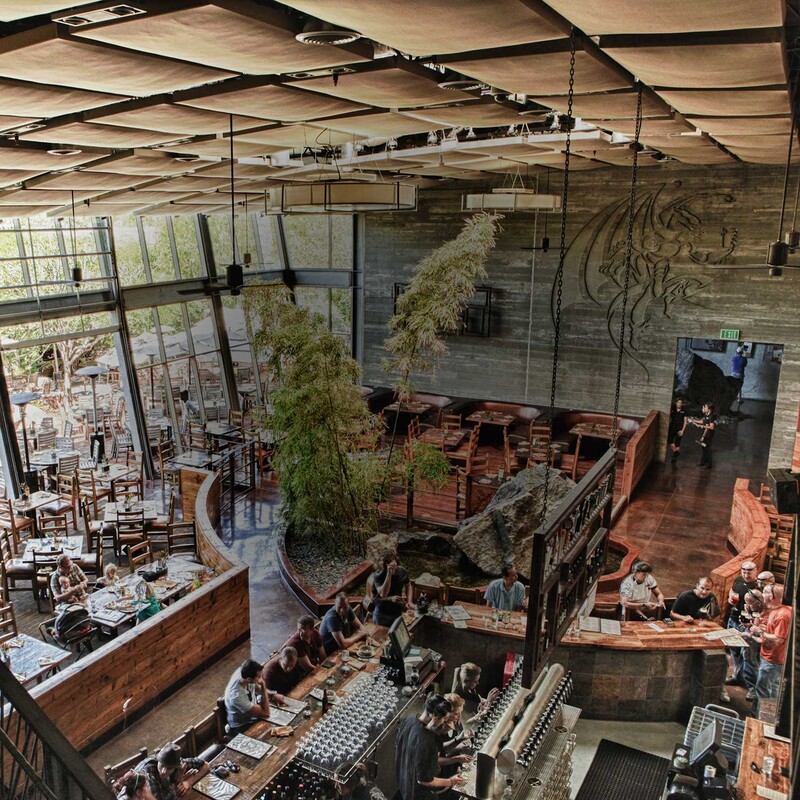 Stone Brewing Co. is a great place to visit because they not only have amazing beers, but it's also an all around beautiful brewery. The brewery includes a bistro which serves delicious food cooked with locally grown ingredients, and gorgeous gardens, creating a great atmosphere for all of its visitors. Stone Brewing Co. also boasts being environmentally responsible and was built with sustainability as a priority.
Cigar City Brewing
What's so special about Cigar City? Well to start, they have a cigar roller from Tabanero Cigars rolling fresh cigars in the tasting room from Tuesday to Saturday every week. This perk combined with the delicious beers crafted with flavors that reflect the ingredients in Florida makes Cigar City a must visit for beer and cigar lovers everywhere. Sample some beers on the brewery tour and relax in the tasting room, and you'll have yourself a pretty great day.
New Belgium Brewing Company
New Belgium Brewing Company was inspired by co-founder Jeff Lebesch's bike trip to different breweries in Belgium. The brewery has become increasingly popular since it started, especially with the creation of Fat Tire, their most famous beer. While they now have a brewery located in Asheville as well, their home is in Fort Collins, Colorado, and it's worth making a trip. The brewery hosts ton of events, including a bike-in cinema, and just is an all around fun place for people to visit. New Belgium places a high importance on sustainability, including placing a priority on clean water, diverting waste from landfills, and reducing their carbon footprint.
Church Brew Works
On the list of things you're probably not supposed to do in a church, you'd think that getting drunk is probably pretty close to the top. However, this brewery certainly doesn't think so. Church Brew Works was created by renovating an old unused church and now hosts tons of visitors coming to try new brews. Though there were many changes made, the architecture of the church gives the place a completely different feel than any other brewery, allowing guests to have a unique experience while enjoying some delicious beer.
Pelican Pub & Brewery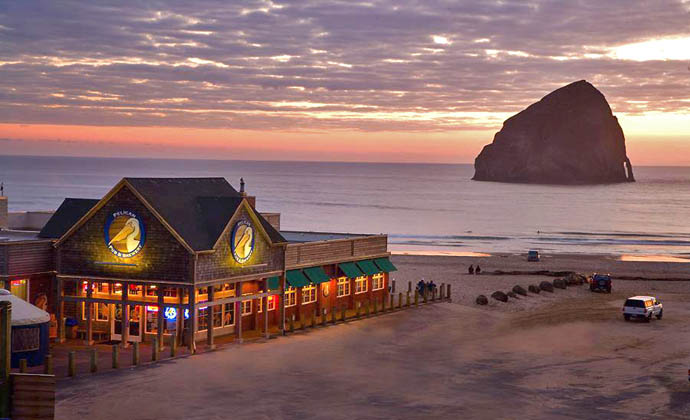 Part of the allure of Pelican Pub & Brewery is definitely its location; its ocean-front view and family friendly environment makes it a popular destination in Oregon. The brewery places just as high a priority on their food as they do their beer so you're bound to get everything you're looking for when you visit. They've won national and international awards for their brews so make sure you get a taste of all they have to offer!
Against The Grain Brewery & Smokehouse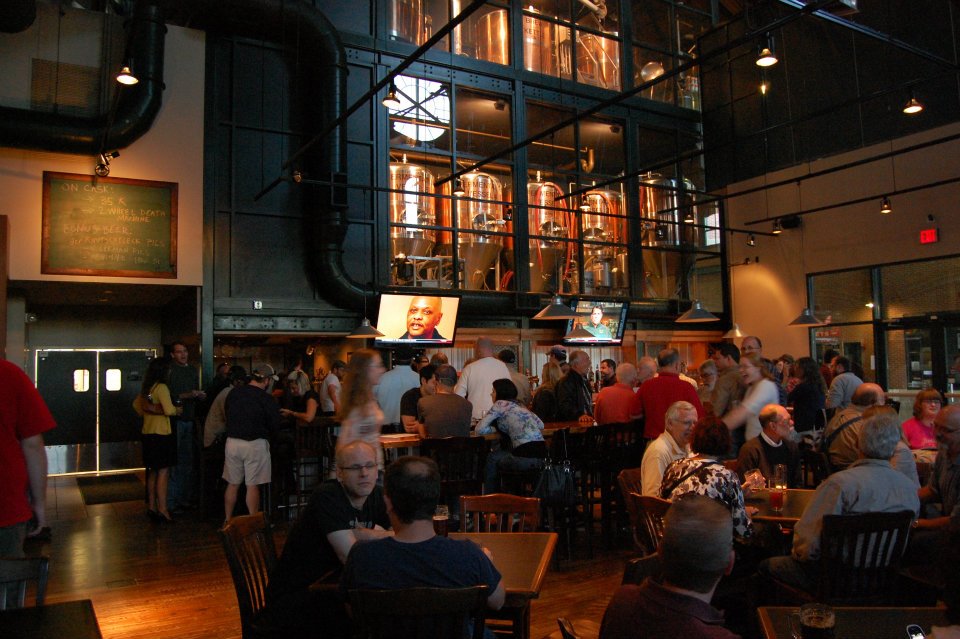 What goes better with America's favorite past-time than a beer? Located at Louisville Slugger Field, Against the Grain is able to combine two huge loves of America, beer and baseball. This gem in Kentucky was created from a former train station, giving it a pretty cool look. The brewery has a large selection of many different types of beers, so you'll definitely be able to find one you like, and in case you happen to bring a non-beer lover along with you, Against the Grain also offers a variety of different cocktails to choose from.
Asheville Brewing Company
If you're big on beer, Asheville, North Carolina is the place to visit, with more breweries per capita than any other city in the United States. Located up in the mountains, Asheville is a truly beautiful place that just happens to know a thing or two about creating delicious local beers. While you'll probably get a great experience at all of the breweries, Asheville Brewing Company is a unique place to visit. Their original location on Merrimon Avenue is also known as the Brew N' View, and is home to a brewery, full-service restaurant, gameroom, and movie theater. Plus if you're in Asheville, they'll even deliver 6-packs and half-gallon growlers of their beer to you! That's pretty awesome if you ask me.
Sierra Nevada Brewing Company
Sierra Nevada Brewing Company is one of the largest craft breweries in the United States. Something cool they offer at their brewery are different tour options you can take depending on your interests, including your typical Brewhouse Tour, a Sustainability Tour on the grounds, an extensive Brew Geek tour, and many other options. The tours can range from 90 minutes to 3 hours so whether you just want to see the sights or if you're looking to learn a lot more about making craft beer, Sierra Nevada has something for you.